CUSTOM SOFTWARE FOR DESIGNING LABELS
One of the pillars of automatic identification solutions is the Software, which ties the different systems together. Sinel offers two types of software solutions:
Standard Software (Sinel Soft, Codesoft, IDEAM, Sentinel…), for the creation of labels and identification by bar codes. Sinel is the biggest distributor of Teklynx in Spain.
Sinel Print Pack, a suite of program modules developed by SINEL that can be easily configured to adapt to different production systems for the best results.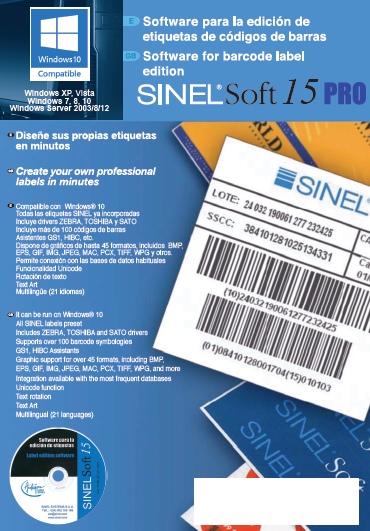 It is a label designer software witch includes the main symbologies, 1D and 2D and helping tools in the generation of GS1 codes. It allows importing data from the common databases and it is specially indicated for creating labels with variable data (counters, dates, formulas, etc.). It includes drivers for ZEBRA, TOSHIBA & SATO printers and is compatible with any Windows driver.




Versions: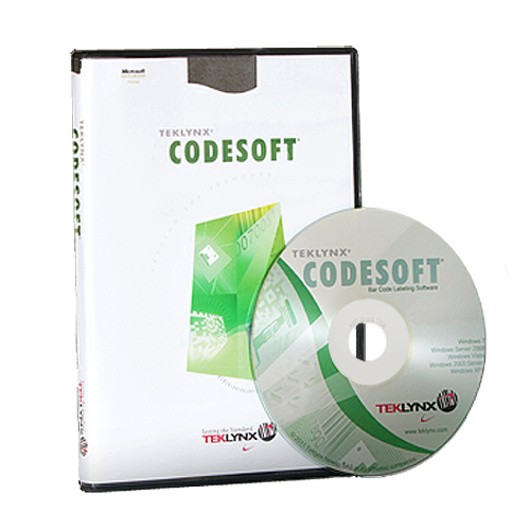 CODESOFT 2014 is an advanced label designer software for business environments that offers unmatched flexibility, power and compatibility.
There are four types of licenses available: Software Online, Software Offline, Platinum and Hardware (USB)
Codesoft is compatible with WindowsTM version 8.1 and it includes drivers for 2500 printers. It allows importing data from the common databases and to create any code in both 1D and 2D symbology. It has also a wizard to create the GS1.

8th VERSION News
The trial period is 30 days.
It allows empathising text within a paragraph: for example for the allergenics.
Codesoft has inside a Label View and Label Matrix converter.
Label comparison tool
Form Designer included
Form Viewer available as a complement
Grid option: Useful in form printing
It is possible to work with multihead printers.
VBScript for: Documents, objects and variables
Versions:
CODESOFT 2014 Runtime
SINEL reference 53315
CODESOFT 2014 Pro 3 printers
SINEL reference 53316
CODESOFT 2014 Enterprise
SINEL reference 53317
Descargar
CODESOFT 2014 Network 5u
SINEL reference 53394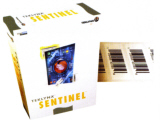 Software for the tasks related with labelling and with bar coded forms, specially designed for middleware environments (SAP, AS 400, NAVISION, BAAN, etc).

Platform - and printer - independent

Server or host system creates a data file.
Centralised administration of label server
SENTINEL retrieves data by querying printing job queues, folders or data sent by server.
SENTINEL processes data, structuring and linking them with a previously configured label format.
SENTINEL prints labels and forms. With CODESOFT, you can print labels using any thermal or Windows-operated printer.
Security
SENTINEL runs in a Windows NT or Windows 2000 Server.
Printing process does not modify your database.
Keeps a register of all printing jobs.
Non-stop printing with hundreds of printers.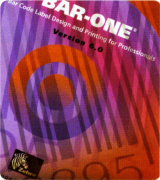 Zebra developed this software for their printers to make designing labels and forms with bar codes simple. It uses Upload to automatically generate documents in SAPscript.

BAR-ONE eliminates the need for additional servers, supplementary software, and changes in your system; nor are manual modifications in SAPscript necessary to carry out tasks related with labels and forms. All documents are created and implemented on SAP platform, their subsequent integration being guaranteed. Changes in documents are easy and done intuitively, greatly reducing the time spent on the maintenance of forms.

Design, modify and print complex formats using a simple graphic interface directly from SAP.

SINEL reference contact us.

Labelling, Safety data Sheet and A.D.R. of DANGEROUS MATERIALS - SINEL Reference 48987

EQGEST calculates and prints labels, Safety Data Sheets for Transporting Dangerous Materials, issues the required documents for the shipping of goods in accordance with ADR 2003: transport cards, instructions and verification of cargo. It includes various utilities and an extensive modifiable database which simplifies procedures.

EQGEST includes a database in ANNEX 1 of regulation of products!!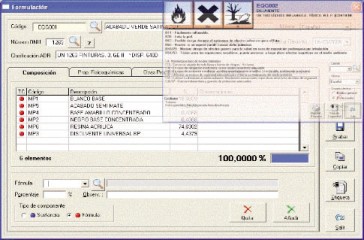 EQGEST offers many useful tools and several configurations depending on the needs of each company:
Single-user and networking facilities
Independent solutions or totally integrated in the company management system
A large number of utilities which simplify or eliminate many administrative tasks
Documentation in different languages
Label designing tool
Label printing module
HS consignment follow-up module to each client
Positioning and replacement of components in formulas and preparations by classification (pictograms, phrases, etc.)

Module to be integrated in the CMS (Company Management System) of your company !!