SINEL SYSTEMS develops a new Print Apply® machine for high speed labelling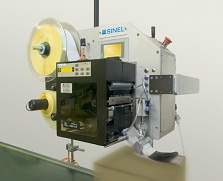 SINEL SYSTEMS has developed one of the fastest Print Apply® Leader machines existing in the market, with an average output of 105 products per minute, reaching in some cases an output of 250 products per minute.

Outstanding advantages are its compatibility with the main printer brands in the market: ZEBRA, SATO, etc, with the application system totally developed in SINEL. This economic and user-friendly system can be fully adjusted to any product format, sector and production line, providing, thus, as well as high speed levels, an indisputable advantage in front of other existing systems.

SINEL, provides labelling and encoding solutions to nearly 3.000 clients, some of them, manufacturers of most well-known European brands.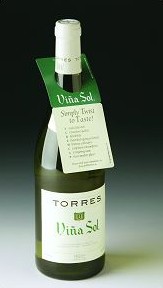 SINEL SYSTEMS, the leading label converter in Spain, has developed the Premium Collar Tag. This is specially designed for the drinks, oil, vinegar, and home chemical products sectors.

The solution consists of a tag with a hole in the upper side that comes in a roll with a film liner, allowing its automatic application around neck bottles. The main characteristic of this product is that it can be separated from its liner without leaving any trace of adhesive and can be automatically placed on bottles and products with a neck, making it stand out from existing solutions which require hand placement.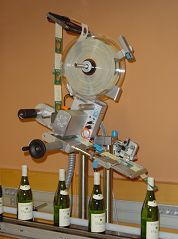 The tag can have a great amount of information in a limited space because it can be printed on both sides and, if necessary, a fold-out leaflet can also be glued on it. These options make it ideal in conveying general information on the product, for promotional campaigns with vouchers and coupons, recipes, prizes, etc. as well as in conveying information in several languages, safety warnings, and usage instructions when necessary.
In order to be able to offer the most complete solution, SINEL offers both manual and automatic labelling machines specially designed to accurately apply the Premium Collar Tag on products at a speed of up to 200 metres per minute.
HERMA 400 automatic labelling machines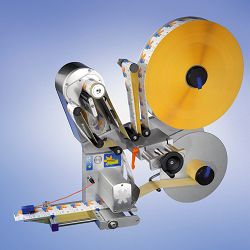 SINEL SYSTEMS, S.A. part of the CAPOSA group, offers the HERMA 400 automatic labelling machines.

These are compact labelling machines now with an integrated electronic configuration which make the use of an electric unit casing unnecessary, at the same time remarkably increasing their reliability. They feature automatic synchronization and with their high-precision servo motor and they can work at a labelling speed of up to 200 metres/minute.

The Herma 400 series are modular and they can handle large label rolls and can be connected to a PLC.

Exclusively distributed in Spain by SINEL SYSTEMS.