SINEL reaches an agreement with REVA SYSTEMS

SINEL SYSTEMS has reached an agreement with the American company REVA SYSTEMS, leader in RFID network infrastructure products.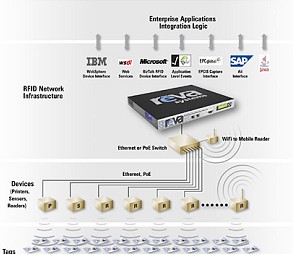 The agreement will allow SINEL SYSTEMS to offer the tag acquisition processorís (TAPs) family, which is produced and designed by REVA SYSTEMS.
REVA develops radio-frequency identification (RFID) network infrastructure products that enable customers to rapidly deploy scalable solutions in any environment.
REVA products improve the system performance and are deployed worldwide across a range of industries of different sectors.
Sinel extends its service for security labelling and RFID in origin
SINEL, leading manufacturer of self adhesive labels, identification and printing systems, has extended its service of electronic protection through radiofrequency for labels integration (RF EAS) and tags for the single identification of articles (RFID).
This is a service which SINEL has been offering for many years thanks to its own manufactured machines which integrate the protection elements (EAS) or identification (RFID) in the label adhesive front. This allows its application on the final products in only one step.
Since July this year, SINEL has two new lines which permit to enlarge the possibilities of integration of EAS and RFID tags from the main manufacturers: Checkpoint, Avery Dennison, UPM Raflatac, etc, in decorative labels with many formats and materials.
The latest technological developments have made it possible for the RFID tags and security labels to be smaller in size and thickness, making them almost invisible once integrated in the product labels. These improvements together with increased productivity and drastic cost reduction are contributing to the adoption of both technologies by manufacturing and distribution companies, providing outstanding improvements in security, identification and product traceability.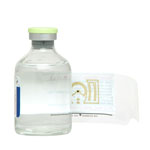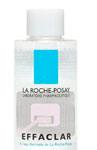 SINEL reaches an important agreement with the Japanese SATO
SINEL SYSTEMS reaches an important agreement with SATO, multinational Japanese leader in automatic identification and data capture systems.

SATO Iberia S.A., subsidiary of SATO International and pioneer in automatic identification and data capture systems, reaches an agreement with SINEL SYSTEMS for the incorporation of the SATO OEM modules in the Print-Apply® labeling machines of SINEL.
The wide range of labelling solutions that SINEL manufactures with its 21 presses, is complemented with innovative labelling systems and automatic identification data capture and RFID solutions, offering an integral service to its customers that includes an after sales service and customizable maintenance contracts.
SINEL SYSTEMS becomes QUALIFIED CONVERTER by AVERY DENNISON
After having passed rigorous test protocols and quality controls applied by AVERY DENNISSON in USA, SINEL has proved that its manufacturing and verifying processes for smart labels meet all the requirements needed to be considered as "Qualified Converter".
SINEL integrates RFID inlays, (both HF and UHF) and also EAS in standard self-adhesive labels of the most popular sizes and materials or in any other size to accomplish its customerís requirements with 100% guarantee ensuring a high-quality, high-yield RFID label.
Sinel obtains the ZEBRA's RFID Specialist certification
SINEL's great experience regarding the RFID recently allowed it to obtain the exclusive ZEBRA's RFID Specialist certification for Spain, offering to the market the complete solution that the leading companies require for the adoption of this technology.

SINEL distributes the Sirit's RFID readers but also provides ZEBRA & TOSHIBA printers, Print&Apply® systems and labelling machines able to read and schedule the 2nd generation's tags.
SINEL SYSTEMS at Hispack 2.006

The Spanish leader of the self-adhesive labelling sector offered an excellent show of its solutions during the last edition of the International Packaging Exhibition that took place in March 2.006 in Barcelona (Spain).

The attention of a great majority of the visitors was drawn by SINELíS stand to see the presentation of RFID systems applications similar to pilot tests that the company had already developed in several industrial sectors.

The company also presented the last advances it had realised in its labelling and Print Apply® machines as well as in its reading, identification and printing systems.

On the stand, people could also discover the last multi-pages labels features and examples of the latest labelling solutions for consumption goods and industrial products.

For more information please contact us by telephone: 00 34 93 745 21 74 or email: export@sinel.com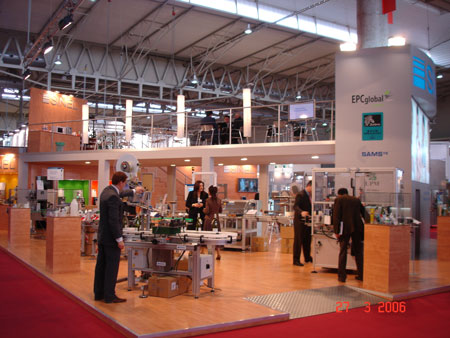 Collaboration agreement between SINEL and EPCglobal

SINEL SYSTEMS is a member-collaborator of EPCglobal, adhering to the EPC (Electronic Product Code) standard in the implantation of RFID solutions.

Sinel, a pioneer company in the automatic identification sector, has developed a wide range of proposals in RFID systems both in HF (13.56 MHz) and UHF systems based on the EPC standard.

Sinel offers products and services ranging from consulting and application of systems and machinery (antennas, printers and automatic applicators that engrave and read RFID tags) to the supply of standard labels, either ready-made for immediate delivery or custom-made, with RFID tags incorporated.